9 Cute & Practical Hairstyles You Can Wear to the Gym
Going to the gym can be a challenge for those of us who also want to look fabulous while doing it. I mean, how is it that all those Instagram fitness models are posing with perfectly done hair and makeup post workout while I just look like a wet, disheveled rat every single time I try something different?
Well, maybe the problem isn't so much me as it is the hairdo that I'm choosing. A gym hairstyle is no joke, especially when you also want it to look cute. But, fret not my lovelies, it can be done!
Here are 9 cute, but also practical hairstyles that you can wear to the gym!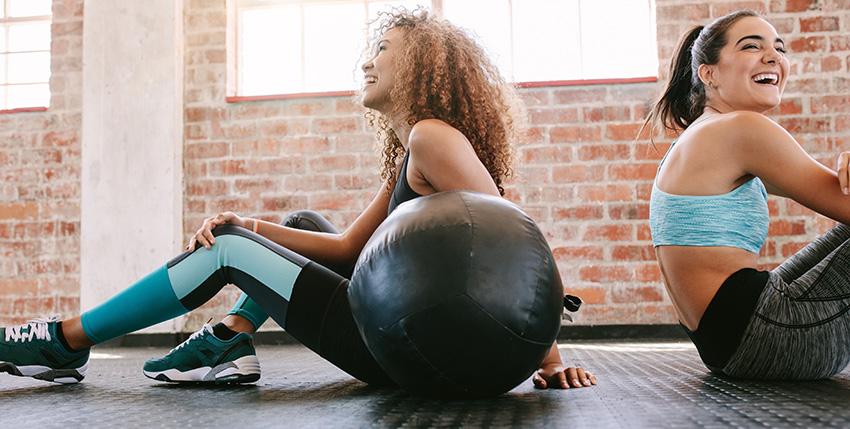 1. Ponytail
The classic is a classic for a reason, you know. It's classic! As far as practical hairstyles go, there's no beating the trendy ponytail. Not only is it a great one for the gym, it is also something that any woman can put up in a jiff – even those of us who are challenged in the department of hair styling!
I don't think you really need to be taught how to make a ponytail, but a tip to classing it up is to cover the rubber band with a piece of hair from the back of your ponytail.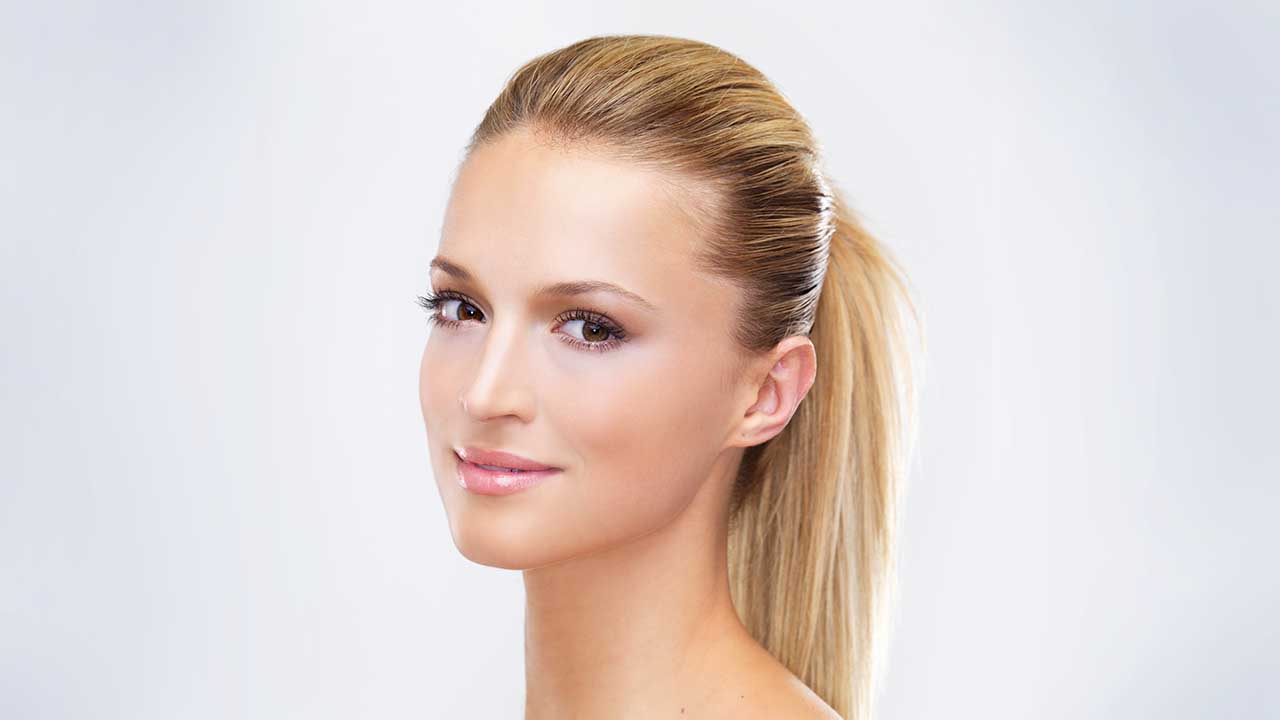 2. Triple French Braid
This practical 'do doesn't just look amazing, we can guarantee that it will stay in one place as you bounce around and get fit. For one, the hair is tied down in several places, so there's less chance for it to get loose. But then it all comes together as one, adding an extra layer of protection.
The concept of this hairstyle is simple. All you have to do is separate your hair into 3 sections, french braid each of them separately, but only till they reach the back of your head. Then, bring them all together and tie them up into one tight ponytail.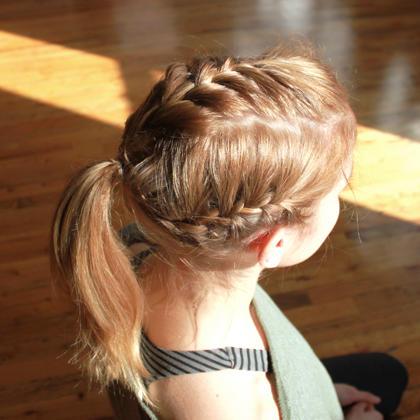 3. Fishtail Braid
Braids are a great option for the regular woman who doesn't have too much time to mess around with her hair before hitting the gym. Of course, you could always go with the classic, but why not take it up a notch with this fishtail braid?
Admittedly, it's going to take a bit more time, but the tighter folds are going to make sure your hair stays in one piece, and that you'll look as good coming out of the gym as you did going in.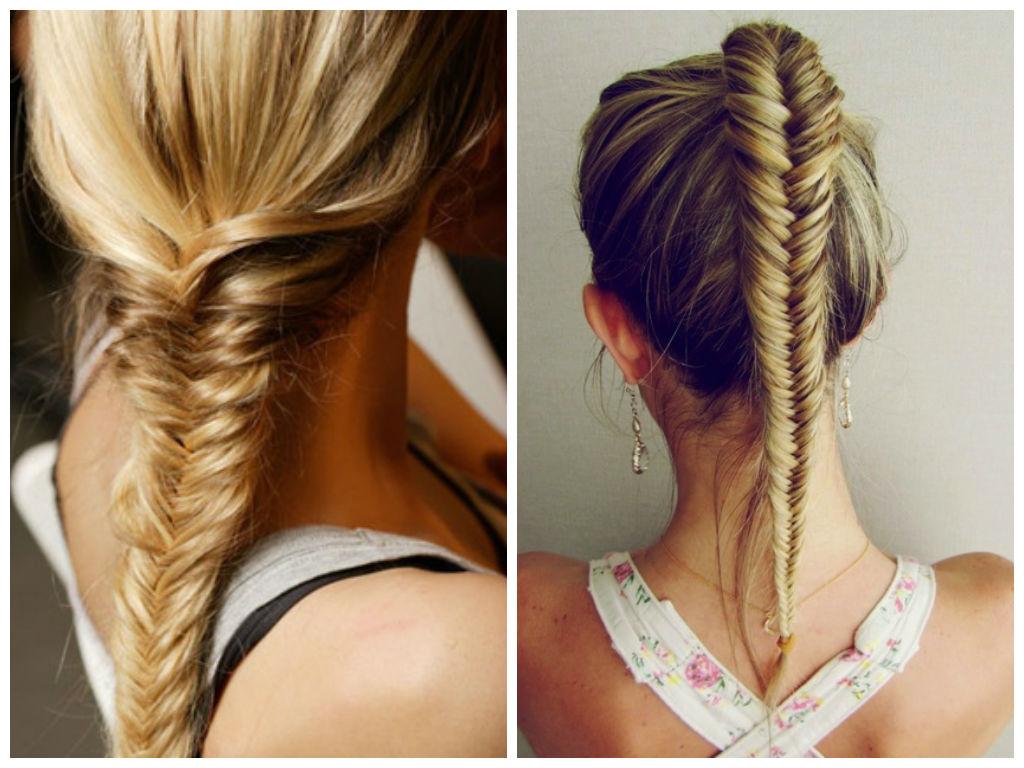 4. Double Dutch Braid
Just like the fishtail braid, this one is designed to stay the way you styled it throughout your workout – possibly even better! The double dutch braid is tightly woven, so it won't unravel with physical activity and it looks pretty cool too!
If you already know how to do a dutch braid, this should be pretty simple. Just part your hair into 2 sections and do the drill twice over.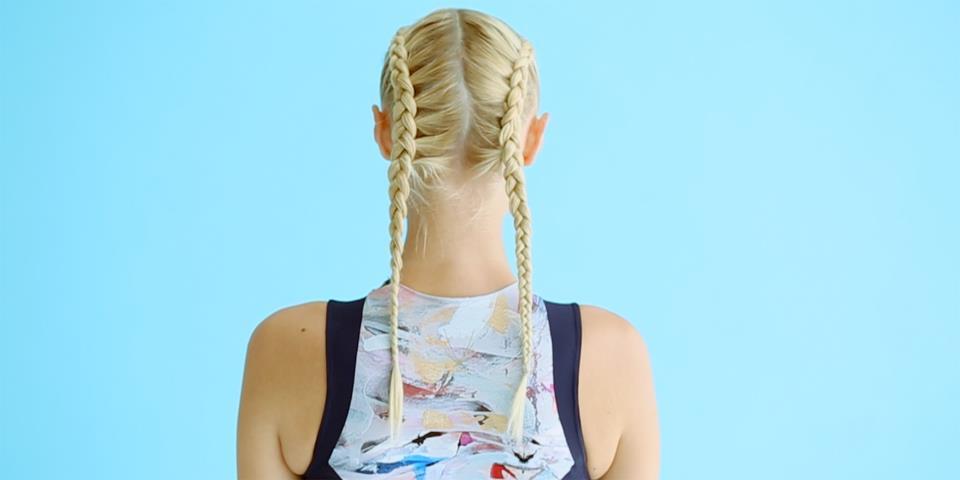 5. Fishtail Braid Ponytail
If you're afraid that a simple fishtail braid won't stand the test of intensity on its own – why not make it even more stable by adding it to your classic ponytail? Not only is this cute and functional, it is also one of the easier hairstyles for beginners to put together in a short amount of time.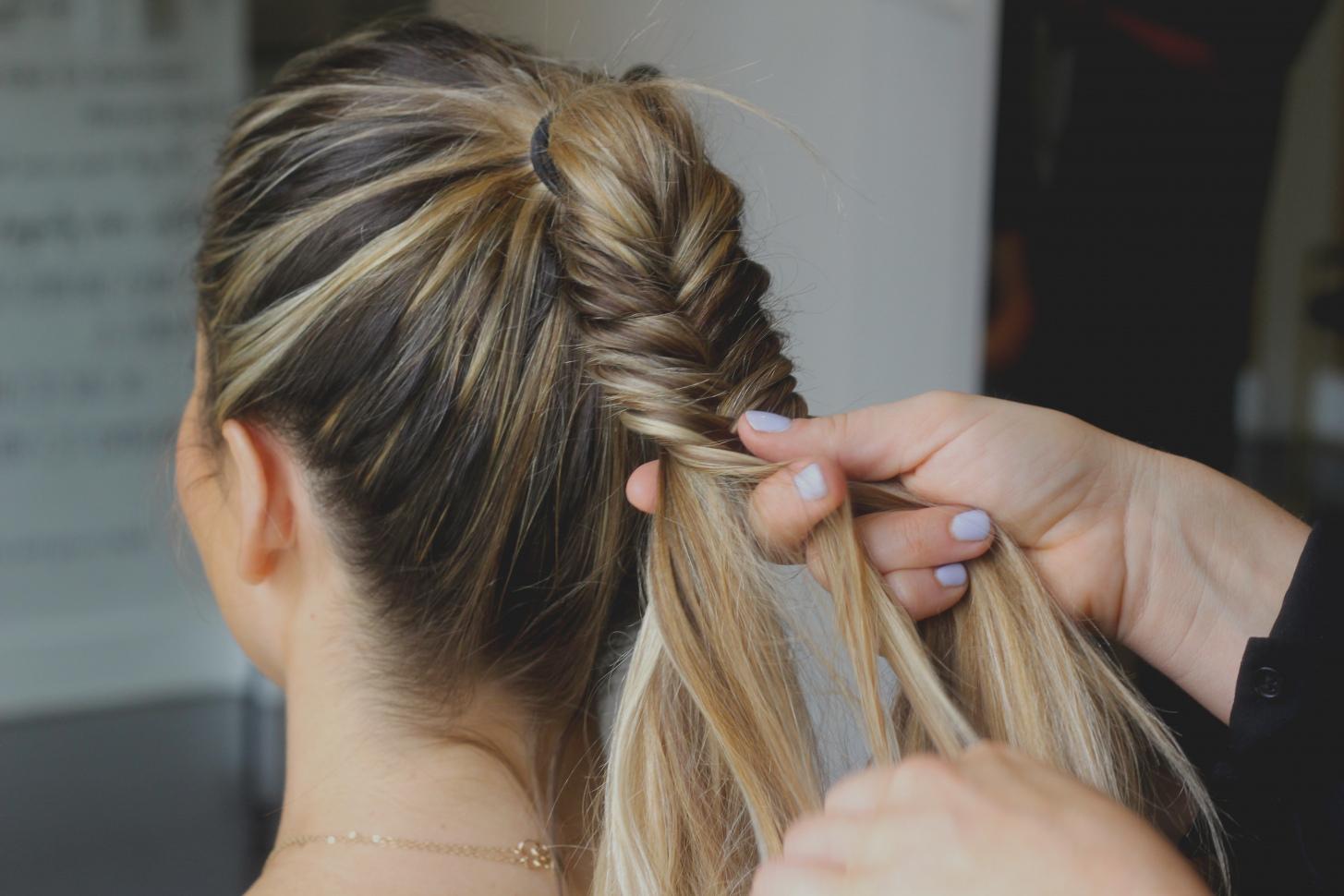 6. 2-in-1 Boxer Braids
Bringing you another variation of the classic – a sturdy but fashionable 2-in-1 boxer braid. The awesome thing about this hairdo is that it's great to wear to the gym, but also go for the rest of the day as well. The tightly packed curves will keep it from coming apart even throughout a busy day that includes a workout!
Another added bonus is that this tight hairstyle is perfect for getting natural, no-heat curls the next day as well, according to cutegirlhairsyles.com.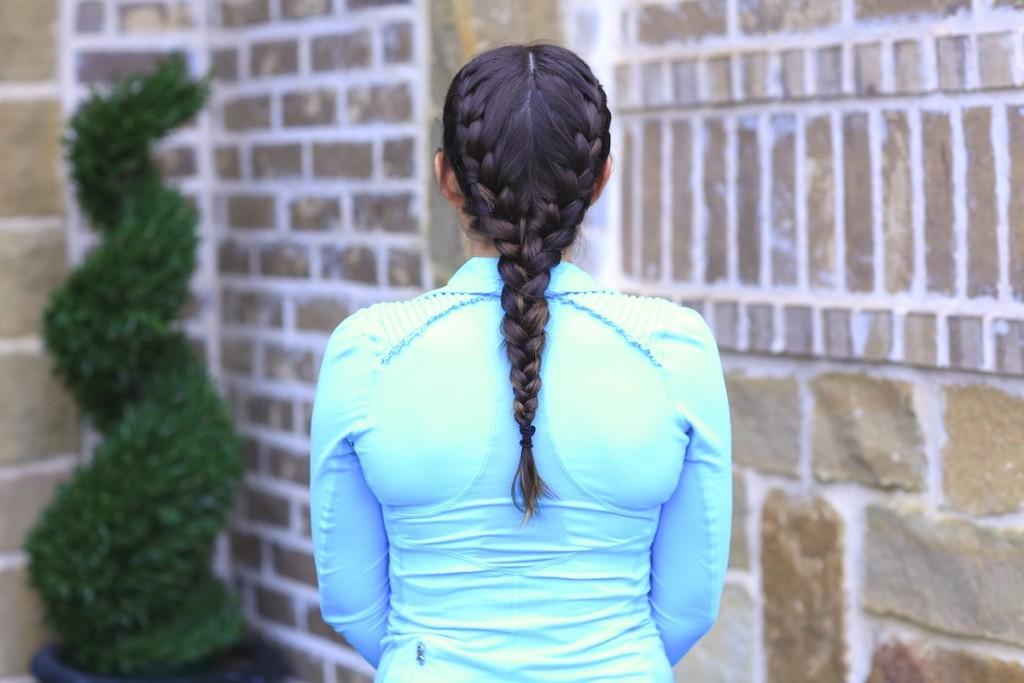 7. Braided Bun
A bun is another classic when it comes to gym-goers, but why not give it a bit of an upgrade and make it slightly fancy by making it braided as well? While this hairdo is great for gym workouts, it is even more suited for those that do not require too much running or jumping around.
So, it is perfect for things like yoga and pilates because it keeps the hair out of your face and makes you look great while you're at it. That, in my book, is a win-win.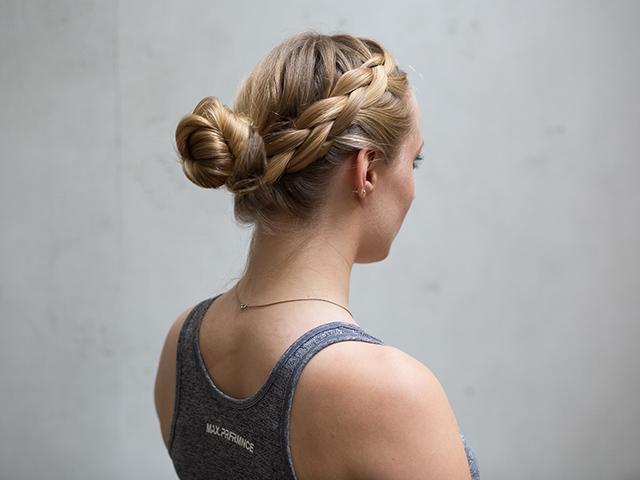 8. High Braid
Let's throw in another variation of a braided bun for good measure, 'cause why not?
This high braid starts from the base of your head and goes up to the crown, unlike a normal braid which would go in the opposite direction. Once you have the braid complete, you can either leave the extra part hanging, or start wrapping it around itself to create a high bun. Either way, it looks fabulous!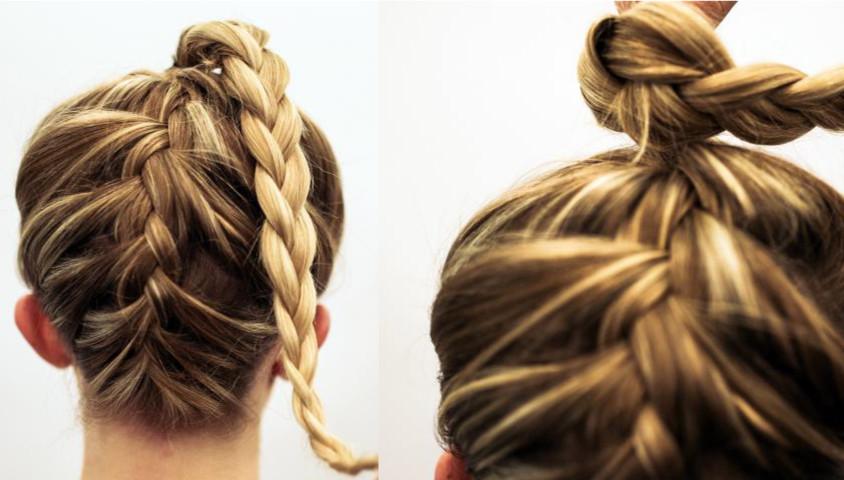 9. Top-Knot
Don the super trendy and hip hairstyle, the simple topknot, to your workout session and slay that routine! The topknot is ideal because it gathers all your hair up in one place, so there won't be any strays. And it also looks really modern and chic.
And if it does get a little messy – well, no problem because there's no better hairdo that's made better with a little rufflege than the humble top knot.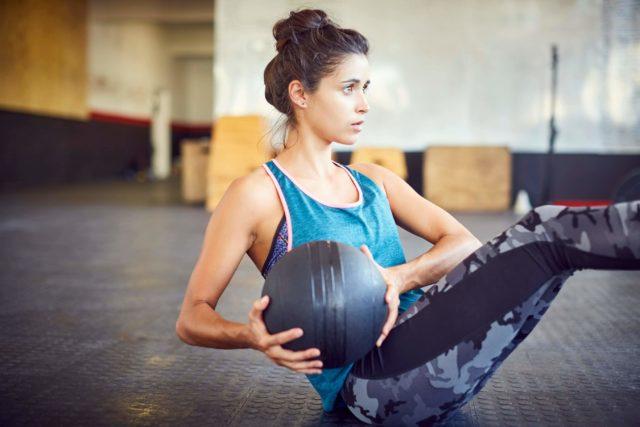 There you go! Those were some pretty hairstyles that are also practical for every gym-going woman. If you want to learn how to take care of your hair post-workout, check the "7 Essential Post-Workout Hair Care Tips" article.
Share On Facebook